No. 1 Best Hair Extensions Course In Delhi To Become A Hair Extension Specialist
Your search for "Best Hair Extensions Course In Delhi" continues as you try to find the best hair extensions academy in Delhi. Welcome to Hair Extensions Castle, the leading Hair Extensions Training Center In Delhi.
The art of hair extensions involves creating a natural look for the client. If a client does not like her hair extensions, then the stylist has failed to create the illusion of long, lush locks. The reputation of a stylist is determined by his or her hair extension methods. Those who want to obtain hair extension certification must be trained by an expert and follow best practices.
What are permanent hair extenions?
Permanent hair extensions are those that achieve a significant change in the overall look of individuals with thinner, shorter or damaged hair. These are attached to regular hair with help of keratin and silicone adhesives, and they last for several months, sometimes even longer.
Hair Extensions Course In Delhi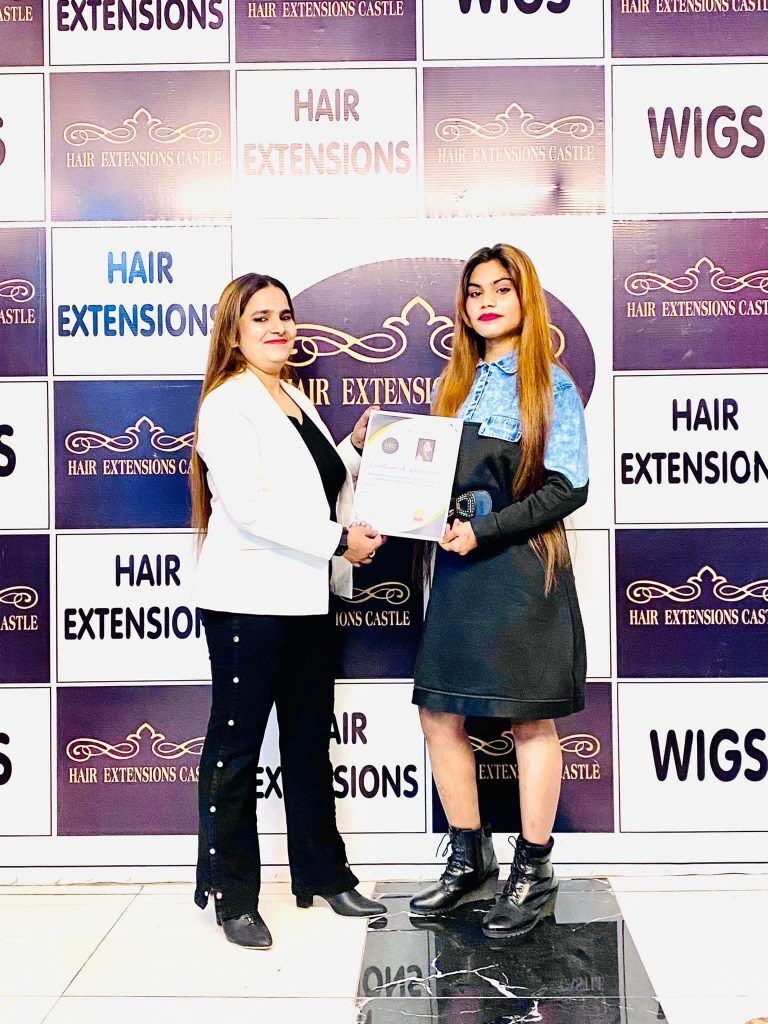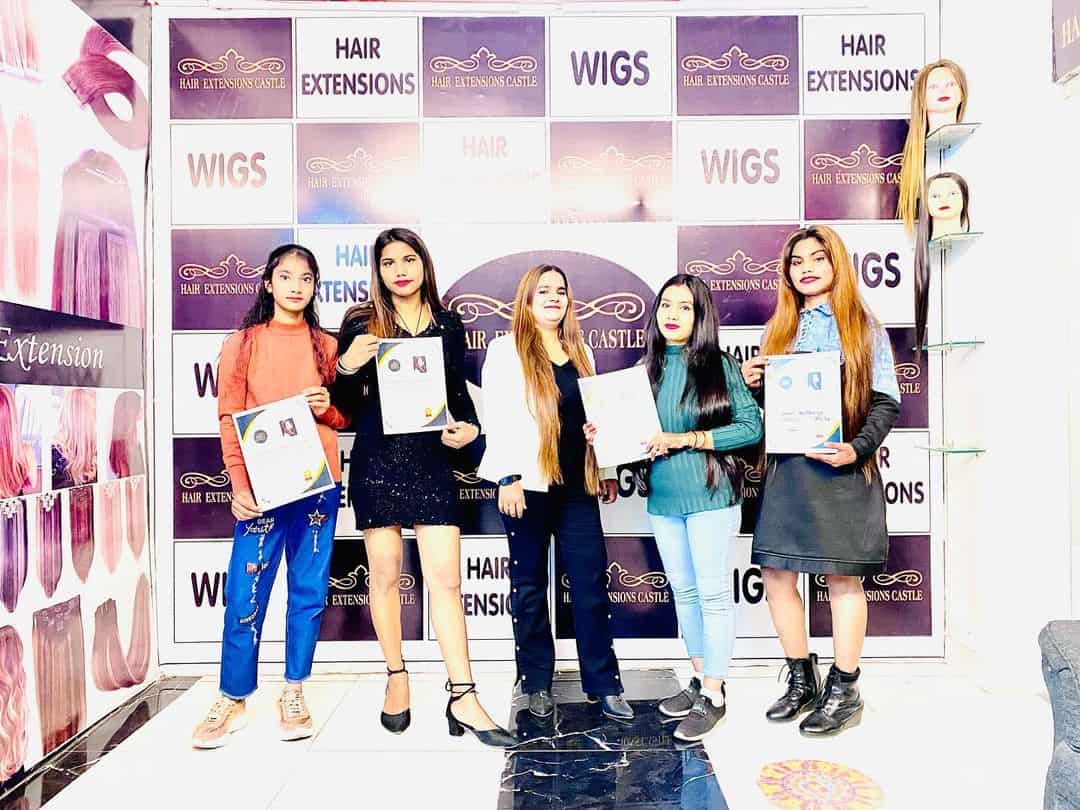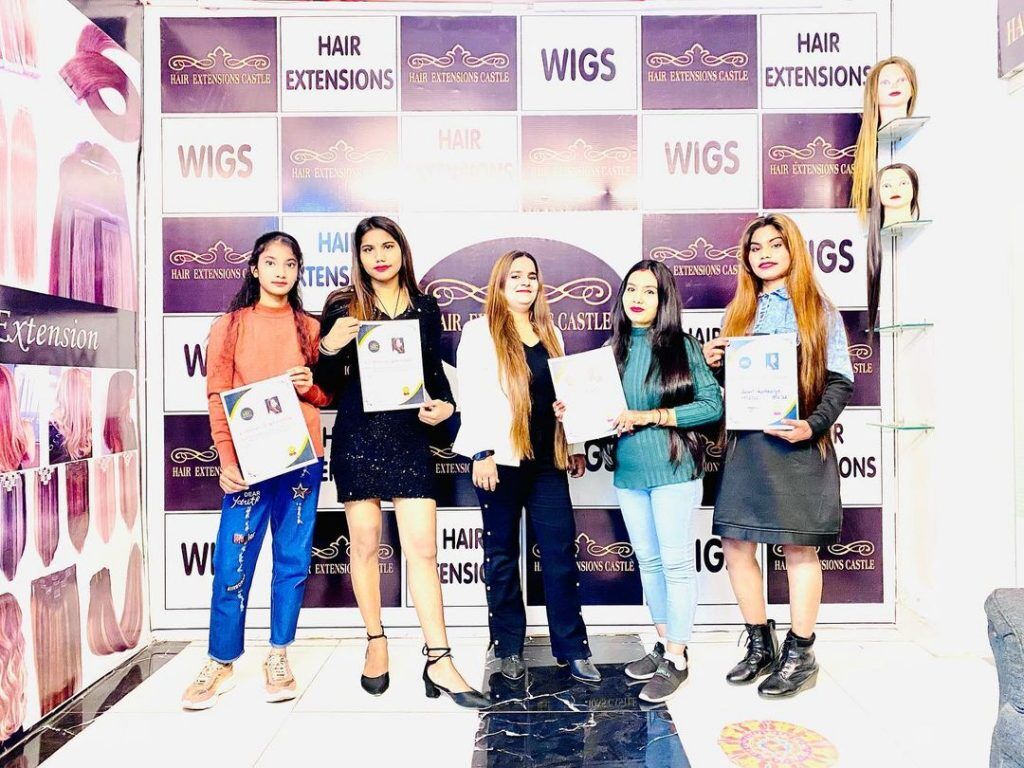 Why Hair Extensions Castle For Hair Extensions Course & Certification?
Hair Extensions Castle has award winning hair extensions trainers and we work closely with students all over Delhi to ensure that they graduate with exceptional skill. Our hair extensions courses convey a professional, hands-on approach and incorporate practical projects for hair extensions and pattern cutting. Students are offered the knowledge to set up their own businesses, which gives them a head-start when it comes to offering hair extensions.
Experience : Fifteen years of experience, a talented team, and dedicated customer service staff ensure that your hair extension experience is a safe and high-quality one.
High Quality Equipment : We provide our students with the best equipment to bring quality results. With safety and excellence as the foundation, we are confident that our students will obtain high level outcomes.
Hands on experience with live clients : To ensure students are well prepared, we offer our students hands-on experience at our studio. Live clients help students transition from the classroom to their careers in the real world.
So let's understand what will you learn from the hair extensions course In Delhi with Hair Extensions Castle!
The hair extensions course will cover the following:
Basic descriptions of equipment's and products.
Types of color matching and how to use them effectively.
How to section hair extension and hair placement techniques.
Hair extension cutting and blending techniques.
Providing hands on experience with different hair extension applications, removal and how to reuse them.
Learn client convincing techniques along with cross and upselling techniques.
Learn how to differentiate between good and bad hair extensions with maintenance advice.
Three days complete course program.
Our Hair Extensions Head Instructor
Sapna Rajput is the founder of Hair Extensions Castle (www.hairextensionscastle.com) She has been in the industry for for over 20 years, and was one of the leading person to introduce Hair extensions in Delhi. Sapna spends most of her days training stylists in how to properly integrate hair extensions into existing haircuts, and how to select proper hairlines.
The advanced hair extension classes, on the other hand, will provide you with every aspect of running your own business. From creating your ideal client and creating hair extensions to marketing your business and service pricing guides.
At Hair Extensions Castle, we offer a full range of programs for individuals looking for a career change as well as for individuals who just want to refresh their skills to advance in the beauty industry. The coursework is suitable for both experienced and first-time students.
Wait no more! pick up your phone and contact us on 09899326534 and start your career as a hair extension specialist.